Book Launch for The Routledge Handbook of Refugee Narratives
Friday April 14, 2023, 12:00 – 1:30 PM (PST); Buchanan Tower, Room 997 (Postponed from March 8)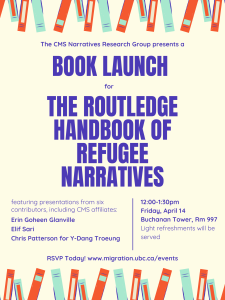 Come celebrate the publication of The Routledge Handbook of Refugee Narratives (2023), co-edited by Evyn Lê Espiritu Gandhi (UCLA) and Vinh Nguyen (Renison University College, University of Waterloo). The book includes chapters by three CMS faculty affiliates: Erin Goheen Glanville, Elif Sari, and the late Y-Dang Troeung.
This open-access Handbook presents a transnational and interdisciplinary study of refugee narratives, broadly defined. Interrogating who can be considered a refugee and what constitutes a narrative, the thirty-eight chapters included in this collection encompass a range of forcibly displaced subjects, a mix of geographical and historical contexts, and a variety of storytelling modalities.
The book launch will feature presentations from six of the volume's authors: Erin Goheen Glanville, Elif Sari, Christopher Patterson for Y-Dang Troeung, Bishupal Limbu, Roopika Risam, and Asha Varadharajan. They will be introduced by co-editors Evyn Lê Espiritu Gandhi and Vinh Nguyen.
Please RSVP through the following link: https://migration.ubc.ca/events/event/book-launch-for-the-routledge-handbook-of-refugee-narratives/
---
Broken Angel: Film Screening + Filmmaker Q&A with Jules Arita Koostachin
Thursday March 23, 2023, 6- 8:30PM (PST); Choi Building, Room 120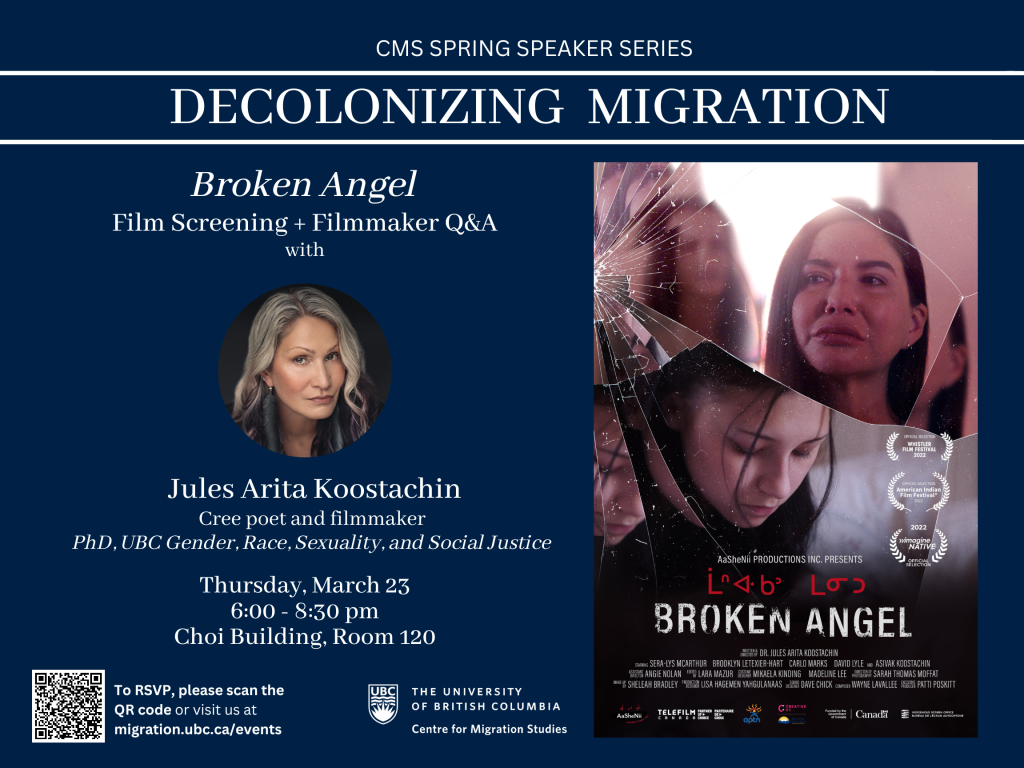 Join us for a screening of the feature film, Broken Angel, written and directed by Jules Arita Koostachin (PhD, UBC Gender, Race, Sexuality, and Social Justice). Dr. Koostachin will be in attendance for an engaging Q&A after the film, moderated by CMS Affiliate and scholar of new media, Elizabeth "Biz" Nijdam(UBC Central, Eastern, and Northern European Studies). This is the third event in our Spring Speaker Series, Decolonizing Migration.
Link for more information: https://migration.ubc.ca/events/event/broken-angel-by-jules-arita-koostachin-film-screening-filmmaker-qa/ 
---
Ziegler Lecture: Max Czollek, "Radical Diversity and Deintegration" 
Thursday January 19, 2023, 11AM – 12:30PM (PST); BUCH D301
CES CONFERENCE PANELS ON POLITICS OF POSTMIGRATION
The term postmigration has been employed as theoretical frame within European Social Studies, for rethinking migration studies, the political borders of Europe, the history of colonialism, and further how to decentralize a Western European narrative of belonging. However, the term postmigrant foremost derived from the artistic practice by artists that have been racialized, marginalized and excluded, although most of them were born or at least socialised in the very core of Europe. Thus, postmigrant was employed as a label to free themselves from racist, colonial, derogatory and diminishing attributions (Azadeh Sharifi).
In two panels, we will explore what the term postmigrant can give us in times when belonging is again contested in public discourse, and when it seems more urgent than ever to understand the contemporary operations of racist violence and imperial nostalgia. How does postmigrant literature, film and aesthetics help us understand the operations of exclusion and oppression today? In other words, does postmigrant lead us down the neoliberal path of 'positive images,' of 'people of colors,' 'empowerment' and 'self-care,' while forestalling a more aggressive reckoning with systemic, structural exclusion? (Katrin Sieg)
Fatima El-Tayeb even went a step further and argued that postmigration, promoted as mainstream discourse without radicalising society by adequately addressing its racial inequalities, might only serve to stabilize political hegemony and its derogatory implications. Furthermore, there is a danger that colonial structures are reiterated in academics by theorizing refugees, immigrants, and Indigenous people, rather than by finding practical methods of 'migrantizising', 'Indigenizing' and 'decolonizing' the institutions.
Beyond Politics of Belonging – Part 1
Moderation: Sten Moslund – SDU, Discussant: Katrin Sieg – Georgetown University
Radical Conviviality: Towards Allying in Spaces of Post-Otherness (Regina Römhild – Humboldt U / Bonaventure Soh Bejeng Ndikung – Savvy Contemporary, Berlin)
Deconstructing and Unsettling Politics of Belonging through Narratives of Radical Diversity and Indigenous Storytelling (Markus Hallensleben – UBC)
Activist Scholarship – Does Postmigrant Theory "Harms Everybody"? (Moritz Schramm – University of Southern Denmark)
Beyond Narratives of Belonging – Part 2
Moderation: Moritz Schramm – SDU / Markus Hallensleben (UBC), Discussant: Azadeh Sharifi – Ludwig Maximillians University Munich
Space is not Neutral: Placemaking in the High-rise of K. Taha's "Beschreibung einer Krabbenwanderung" (Dorothee Leesing – UBC)
Reconceptualising Belonging in Germany: Postmigrant Readings of Two Selected Works (Ajibola Akin Fabusuyi – UBC)
Sabri Louatah's Les Sauvages: A Postmigrant Dystopia? (Alvaro Luna – Université de Limoges)
Organizer: Markus Hallensleben, CES
---
November 12, 2020 
MARKUS HALLENSLEBEN: DECONSTRUCTING EUROCENTRIC POLITICS OF BELONGING THROUGH LITERARY AND VISUAL NARRATIVES OF PLURAL RELATIONS
My talk will discuss literary and visual narratives of plurality that suggest a relational, intersectional way of connecting cultures. These narratives are often directed against hegemonial discourses of belonging and can be seen as counter narratives to Eurocentrism, colonialism, sedentarism and patriarchalism. They can, nevertheless, be place based and vernacular, and at the same time promote cosmopolitanism and super-diversity. Whether they are earth based, as in the installations and performances of Otobong Nkanga, or bodily centred, as in the writings of Billy-Ray Belcourt, they make us aware of the problematic and violent politics of seeing the land and the people as resources, rather than listening to their voices as necessarily corrective sources for a societal change. Similarly, new narratives of a postmigrant society and "Radical Diversity" (Max Czollek) have emerged in German-language texts and films that deconstruct a Eurocentric politics of belonging. By building plural relations between religions and cultures, they give refugees and immigrants agency and openly criticize socio-political concepts of integration that are built on the principle of a dominant and "guiding culture". I will analyse these narratives under the assumption that cultural identities are constructed performatively and that cultures have to be seen dynamic and confluent. However, being myself entangled as an uninvited guest and settler here in Vancouver, my goal is not to compare similar political activisms coming from different cultural backgrounds, I rather look for queer narratives of self-governing, self-determination and self-precarity. Finally, I will ask how we can, with the words of Chantal Mouffe, "transform an antagonism into an agonism" (Hegemony, Radical Democracy, and the Political, 2013) and aim for a scholarly activism that won't reiterate Eurocentrism within and outside Europe.
Organizer: Centre for Migration Studies
---
October 22, 2021
Reading and Lecture with 
Ilija 
Trojanow 
on "Confluences post Migration"
German-language pre-eminent literary novelist, essayist, translator and publisher Ilija Trojanow will read from his book Nach der Flucht (After the Flight) and will lecture about Confluences between Eastern and Western cultures, followed by a Q&A session on topics such as narratives of forced migration, fake news and populist politics.
Organizer:
---
June 24, 2020 
VIRTUAL CONFERENCE: POSTMIGRANT AESTHETICS: HOW TO NARRATE A FUTURE EUROPE?
The increased numbers of refugees entering Europe since 2015 has put an urgency to discussions on European self-understanding and identity. In which way is Europe, anthropologist Regina Römhild asks, 'characterized by a long-term presence of migration' which is partly neglected or made invisible in public discourse (Römhild 2018: 69)? How can we methodologically develop an understanding of Europe as a postmigratory space that is fundamentally shaped by earlier and ongoing migration movements? How can the concept of postmigration help us to grasp the overall negotiations and conflicts taking place in society?
In two panels we will examine postmigrant narratives as playing a crucial part in challenging collective core narratives and the politics of belonging in plural societies. Our aim is to establish a set of criteria for a new transformative aesthetics that renegotiates and changes political perspectives. We will thus show how literature and film, by questioning binary concepts of hybridity, diversity, integration and belonging, can provide sociopolitical counter-narratives to Eurocentric, ethnically and nationally centred visions of society and cultural identity. The material investigated reaches from cross-mediterrean mobilities and autoethnographic writings about Italy and the Balkan region to Algerian-French film, from the indigene Black British novel to German- and Danish-language literatures that address topics such as genealogies of self-making, ecocriticism and radical diversity within a European context. We will further critically discuss the theoretical implications of an aesthetics of postmigration as a possible new analytical turn in cultural studies.
Organizer: Markus Hallensleben
---
January 14, 2020 
DEPT. OF CENES ZIEGLER LECTURE SERIES: MORITZ SCHRAMM (SDU), "RADICAL DIVERSITY: POSTMIGRANT PERSPECTIVES ON ART, CULTURE, AND POLITICS"
In recent years, the concept of postmigration and the notion of a postmigrant society have had a significant impact on the social sciences, as well as in the humanities in Europe. Partly growing out of the theatre scene in Berlin, Germany, postmigration is often seen as a political catchword or even a critical intervention in both public and academic discourses on migration and integration. The term does not signal an end of migration, but rather refers to the overall negotiations and conflicts taking place in societies that are fundamentally shaped by earlier and ongoing migration movements. In my lecture, I will introduce the developing concept of postmigration and its academic reception, before exploring it as an analytical perspective, reframing or even challenging widespread concepts such as 'super-diversity' and 'multiculturalism'. With a focus on the idea of 'radical diversity', insisting on the undisputable multiplicity of all individual backgrounds, the paper wants to discuss the consequences of the new concept for art and culture, as well as for politics.
Organizers: Markus Hallensleben, Sabine Zimmermann, and co-sponsored by the UBC Institute for European Studies.