June 20 – 22, 2022 (Virtual) | June 29 – July 1, 2022 (In-Person)
Twenty-Eighth International Conference of Europeanists
Iscte – Instituto Universitário de Lisboa | Lisbon, Portugal
https://ces-columbia.secure-platform.com/a/organizations/main/home 
ECRN Mini Symposium on Decolonization as Theater – Decentering and Disrupting Colonial Spaces and Narratives
(organized by Markus Hallensleben, UBC)
[33] Decolonization as Theater: Decentering and Disrupting Colonial Spaces and Narratives – Artist Roundtable on Performing Decolonization – Panel 1
6/22/2022
5:00 PM to 6:30 PM GMT+1
6:00 PM to 7:30 PM CEST
12:00 AM to 1:30 PM EDT
Zoom Room 4
Book Panel / Roundtable
Chair: Markus Hallensleben – University of British Columbia
Katrin Sieg – Georgetown University
Azadeh Sharifi – Ludwig Maximilian University of Munich
Participants:
Aztec/Mexica Dance Performance by Casa Mexico Cultural Society
Performers: Maria Jose Athie Martinez – Casa Mexico Cultural Society Book
Sharon MacDougan – Casa Mexico Cultural Society
Javier Romero – Casa Mexico Cultural Society 
Rahul Varma – Teesri Duniya Theatre
Book / Roundtable Panelist
Julia Wissert – Namibian-German Kaleni Kollektiv
Book / Roundtable Panelist
A Collective Story of Finding Balance: The Case of Casa Mexico Cultural Society in Vancouver
Maria Jose Athie Martinez – Casa Mexico Cultural Society
Book / Roundtable Panelist
Decolonizing European Studies [organized by ECRN]
6/28/2022
4:00 PM to 6:00 PM Conference Side Event
Chair: Claske Vos – University of Amsterdam
Speakers:
Markus Hallensleben – University of British Columbia, Center for Migration Studies and Department of Central, Eastern, and Northern European Studies
Katrin Sieg – Georgetown University, Director, BMW Center for German and European Studies
Pawel Lewicki – European University Viadrina, Social and Cultural Sciences, Institute for European StudiesArina Rotaru – NYU Shanghai, Writing Program
[104] Decolonization as Theater – Decentering and Disrupting Colonial Spaces and Narratives: The Theater of Decolonization/Decolonizing Theater – Panel 2
6/30/2022
9:00 AM to 10:45 AM – Room 1 Paper Panel
Chair: Markus Hallensleben – University of British Columbia

Participants:
Desperation, Desideratum, and the German Post- Migrant Theater History
Azadeh Sharifi – University of Fine Arts Berlin
The Theater of Decolonization/Decolonizing German Theater
Katrin Sieg – Georgetown University
Performances of Anti-Colonial Resistance: Thinking with Tanzanian Post-Independence Theater Practice
Jan Dammel – Potsdam University
Performing Decolonization: The Punjabi- Language Theatrical Work of Gursharan Singh (1929-2011) and Najm Hosain Syed (b.1936) Single Paper
Anne Murphy – University of British Columbia
Discussant: Moritz Schramm – University of Southern Denmark
[129] Decolonization as Theater – Decentering and Disrupting Colonial Spaces and Narratives: The Theaters of Memory and Regret/Reconciliation – Panel 3
6/30/2022
11:00 AM to 12:45 PM – Room 1 Paper Panel
Chair: Azadeh Sharifi – Ludwig Maximilian University of Munich

Participants:
Transforming Structures of Colonialism through Artistic Practices and Collective Storytelling in Spaces of Co-Presence
Kristina Parzen – Concordia University
Decolonizing Reconciliation: The "Theater of Memory" in Germany and the "Theater of Regret" in Canada
Markus Hallensleben – University of British Columbia
De-Integration and the Im/possibility of New Alliances
Moritz Schramm – SDU
Algerians Were Drowned Here: The "Theater of Memory" of the 1961 Paris Massacre in Literature
Álvaro Luna-Dubois – Université de Limoges
Discussant: Katrin Sieg – Georgetown University 

Panels Abstract:
We will critically discuss performative aspects of decolonization and reconciliation from different perspectives and as they appear in politics, arts, literature and theatre. Questions to be addressed will be, for instance: How can decolonization be performed in theater productions and visual arts? In which way do neocolonial politics and economics, geographical locations, multiethnicity and Indigeneity have an effect on unsettling European expectations and destabilizing colonialities? What is the role of marginalized visual minorities within the recent postmigrant theatre history? Is decolonization itself performative, and if so, within which political and aesthetic narratives? Does it reiterate colonial power structures, or does it indeed break with them and serve social justice? We will practically and theoretically look at examples, such as the work of contemporary visual artists and theatre practitioners from Canada, Mexico and Europe, Tanzanian's post-independence theatre productions, Namibian-German coproductions, the "Theatre of Memory" (Bodemann, Czollek, Samuel) in German and French literature, the "Theatre of Regret" (Gaertner) around the Truth and Reconciliation Commission in Canada, and the Punjabi-language theatrical work in postcolonial India and Pakistan. By thus investigating political and aesthetic performative aspects of decolonization in the widest sense, we intend to be as critical as possible against the solely use of the term decolonization just as a metaphor (Eve Tuck & Wayne Yang). We are particularly interested in how places and people have been interconnected throughout the ongoing history of colonization, and how this entanglement in neocolonial economic and political structures can be disrupted through artistic, behavioral and narrative interventions.
---
Thursday, February 17, 2022, 2pm – 3pm (PST)
What Is Thinkable Is Also Possible: Surrealists on the Northwest Coast (Public Talk by Colin Browne)
Location Buchanan Tower, Room 997 1873 E Mall, Vancouver, BC, V6T 1Z1, Canada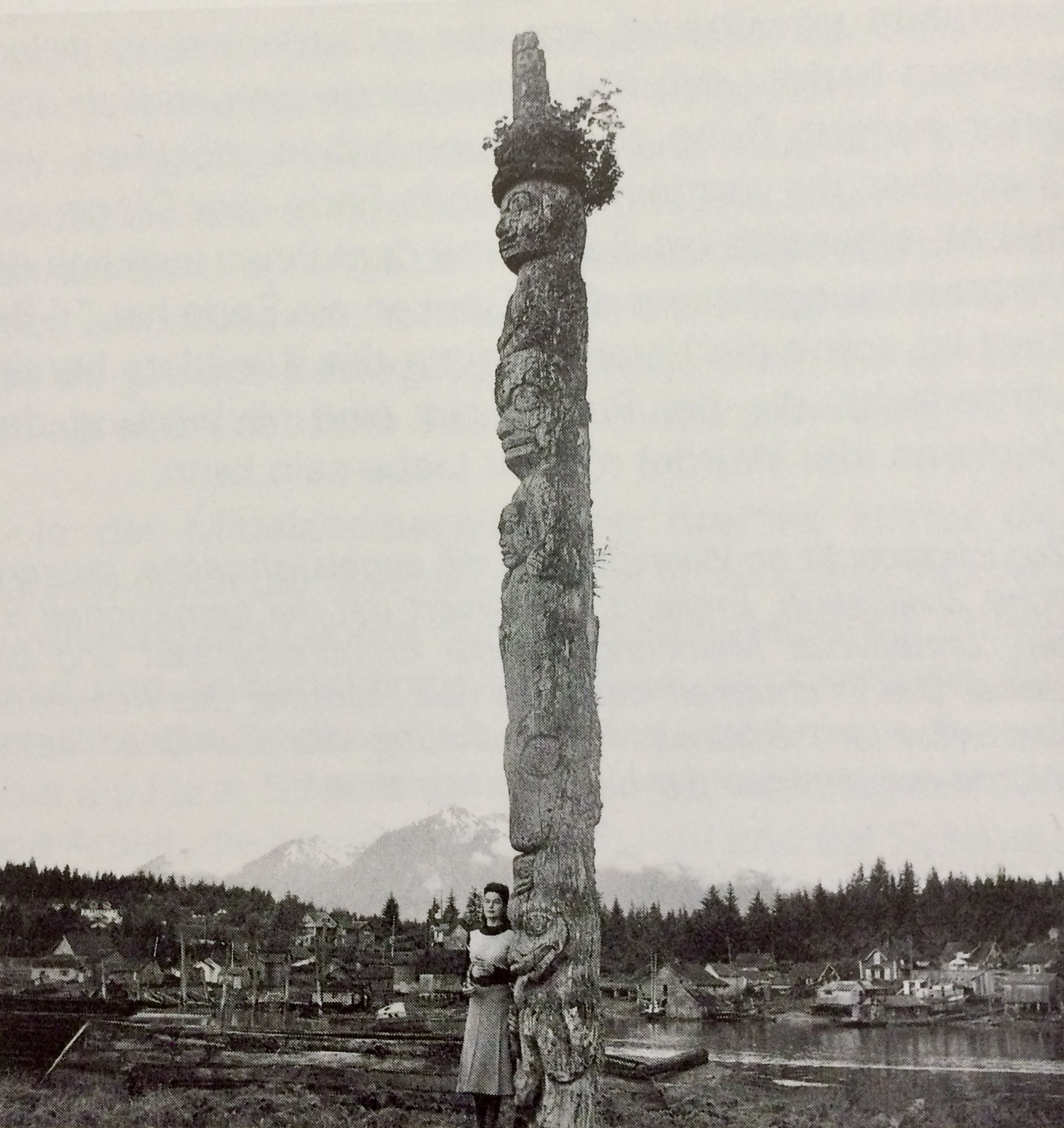 In this talk, Colin Browne will reflect on the journeys of surrealists Kurt Seligmann (Swiss), Wolfgang Paalen (Austrian), Alice Paalen (French), and Eva Sulzer (Swiss), to Alaska and British Columbia in 1938 and 1939 to experience firsthand the monumental and ceremonial arts of the Indigenous cultures of the Northwest Coast. What were they seeking, what did they find, who did they meet? How were their lives and their work impacted by their experiences? And what are the challenges associated with writing a book about these pilgrimages?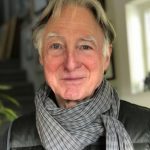 Bio: Colin Browne is a poet, editor, documentary filmmaker, film historian, and Professor Emeritus in the School for the Contemporary Arts at SFU. His book about Paalen will be published by Talonbooks next year.
Featured image: Alice Paalen at the foot of a Tlingit pole, Wrangell, Alaska (Ḵaachx̱aana.áak'w); Photo by Eva Sulzer, with permission by Andreas Neufert.
---
Thursday, February 10, 2022, 2pm – 3:30pm (PST)
Virtual Panel Discussion on "Landscapes and Cityscapes – Placemaking Narratives of Mobility"
Cancelled. Please check back later for a possible rescheduling.
Co-sponsored by the UBC Centre for Migration Studies Narratives Research Group and co-organized by Dorothee Leesing.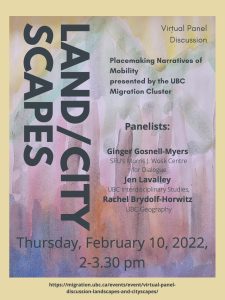 [Abstract]
The panel "Cityscapes and/as Landscapes – indigenous placemaking Narratives and actions of mobility" invites urban studies and mobility scholars to discuss placemaking strategies from an indigenous perspective. The relationship with land from a Western perspective creates the dichotomy between nature and the city. Perspectives as outlined by Eve Tuck (2015) in relation to possible understandings of place-based techniques from an indigenous standpoint further an integrated approach to seeing the city as a native space. These transformations of perception are central to approach migration topics such as mobility, housing, health for both indigenous as well as immigrant/settler perspectives. In Canada, indigenous and non-indigenous scholars have discussed these pathways to further anti-colonial approaches and propose pathways to transforming our understanding of the city.
In this roundtable, we want to invite discussions about how space and place are perceived in indigenous communities, what vocabulary and tools are necessary for a paradigm change in the Canadian context, what spatial inhibitors and enablers can be observed, as well as what possible changes can be and are being made.
[Panelists]
Panelists are Jen Lavalley, Ph.D. Candidate in Interdisciplinary Studies. Her research on indigenous people who use drugs in the DTE Vancouver focuses on integrating indigenous ways of knowing to overdose responses.
Ginger Gosnell-Myers is a fellow at SFU's Morris J. Wosk Centre for Dialogue. "She has been bringing forward new perspectives of Indigenous peoples in cities for over 20 years while breaking down misconceptions about urban Indigenous realities to reframe our understanding of both issues and opportunities."
Rachel Brydolf Horwitz is a PhD Candidate in Geography. As the coordinator of Bici Libre, she is an advocate for urban and rural mobility enhanced by bicycle programs. This event is part of our Indigenous Presence Lecture Series, and co-sponsored by the Narratives Research Group and co-presented by the Mobilities Research Group.
[Extended Bios]
Jen Lavalley:
Jen Lavalley is a Neyihaw-Saulteaux Métis queer/two-spirit scholar-activist born and raised in Treaty Four territory (Regina) and is currently a guest on the unceded territories on the xʷməθkwəy̓əm (Musqueam), Skwxwú7mesh (Squamish), and sel̓íl̓witulh (Tsleil-waututh) Nations since moving to Vancouver in 2017. Her scholarly and community work concern questions of harm reduction, Indigenous and decolonial methodologies, and justice, including a focus on improving the cultural relevancy of overdose-focused harm reduction and substance use programs for Indigenous Peoples.
Ginger Gosnell-Myers:
Ginger Gosnell-Myers, from the Nisga'a and Kwakwak'awakw Nations is passionate about advancing Indigenous rights and knowledge through public policy and engagement processes. Truth is the pathway to reconciliation, and her award-winning projects have broken down barriers while co-creating new approaches for systemic change.
In November 2019, Ginger was appointed as the first Indigenous Fellow with the Simon Fraser University Morris J. Wosk Centre for Dialogue. This appointment reflects her distinguished achievements as a thought leader and practitioner who brings a deep understanding of urban Indigenous issues, years of practice in bridging Indigenous and non-Indigenous communities in developing public policy, and a passion for innovating new engagement processes that advance the United Nations Declaration on the Rights of Indigenous Peoples. Ginger's fellowship will focus on Decolonization and Urban Indigenous Policy and Planning, and builds upon the 20+ years she has in this field.
Ginger is featured in the inspirational book: Notes from Canada's Young Activists: A Generation Stands up for Change (2007). In 2012 as part of the CBC documentary series "8th Fire", Ginger was highlighted and profiled for her views on Indigenous issues and relations in Canada. She has delivered a TedX Talk – 'Canadian Shame: A history of Residential Schools', and a Walrus Talk – 'Who do you think we are'.
Rachel Brydolf-Horwitz:
Rachel Brydolf-Horwitz is a PhD candidate in the Geography Department at UBC where she studies digital technologies and practices of care. She also coordinates Bici Libre, a program that partners with other migrant-serving organizations and individuals to promote better living and working conditions for migrant agricultural workers in the lower Mainland.
---
Friday, February 4th, 2022, 1pm (PST)
"Re-storying Higher Education: Toward Indigenous Resurgence & Settler Decolonization"
by Dr. Shauneen Pete (University of Victoria)
Register in advance for this meeting : https://migration.ubc.ca/events/event/virtual-talk-with-dr-shauneen-pete/ 
Abstract: For the past twenty years in my work as a faculty member I have guided settler, pre-service, teacher candidates toward a deeper level of engagement with Indigeneity. I have helped them to let go of their limiting assumptions about multicultural education and guided them toward a vision for reconciliation education. Through storying I will share with you some of my pedagogical practices which allow for a deeper understanding of both Indigenous resurgence and settler decolonization; and I will re-story a vision for curriculum design in Canadian higher education, which I believe may advance our reconciliation efforts.
Bio: Dr. Shauneen Pete is from Little Pine First Nation in Treaty 6 territory.  Shauneen is a mother and grandmother.  She promotes the Indigenization and decolonization of higher education. As a teacher, she works toward settler decolonization in teacher education.
Dr. Pete is a Professor in Leadership Studies at the University of Victoria. She has served as the Executive Lead: Indigenization at the University of Regina. She was also the Vice-President (Academic) and interim President at First Nations University of Canada.
---
Friday, January 28th, 2022, 1:00 pm (PST)
Ziegler Lecture: Dr. Renae Watchman, "Trans-Atlantic Indigeneity: Indigenous Literary Presence in Europe"
Register in advance for this meeting via Zoom: https://ubc.zoom.us/webinar/register/WN_qCPC7jnqRay0IcMSD1EVFw  
Join us on January 28th, 2022 at 1pm for the virtual Ziegler Lecture Series, featuring Dr. Renae Watchman of McMaster University. This talk is co-sponsored by The Narratives Group. We gratefully acknowledge the financial support of the Waterloo Centre for German Studies in the planning and organization of this virtual event in the CENES series on Indigenous Presence and Representation in German and European Studies.
Title: "Trans-Atlantic Indigeneity: Indigenous Literary Presence in Europe"
Bio: Renae Watchman is from the Diné Nation in Shiprock, NM. With a doctorate in German Studies from Stanford University (2007), she is an associate professor of English, cross-appointed with Indigenous Studies at Mount Royal University in Calgary. She is also Co-director of the Office of Academic Indigenization.
Abstract: This presentation will examine how active Indigenous presence from Turtle Island has been depicted in novels, short stories, film, autobiography, and literary criticism by contemporary Indigenous authors and filmmakers across the pond. Looking at diasporic Indigenous people who have travelled to Europe or have made Europe their second home, while still upholding their Indigenous languages and lifeways to their home communities and kin, this talk approaches the work of the "greats" of Indigenous literary arts to evaluate their depiction of distinctive Indigenous lifeways amid disparate historical and cultural contexts, seeking to centre Indigenous presence as it happens in the European context and beyond.
---
Wednesday, December 1, 2021, 1:00 – 2:00 PM (PST)
Keeta Gladue, "Decolonizing Disney Princesses"
Join us on December 1 at 1 pm PT for a talk on "Decolonizing Disney Princesses," featuring Keeta Gladue. The event is co-sponsored by the Diversity and Inclusion Grant from the Waterloo Centre for German Studies.
Register in advance for this meeting via Zoom: https://ubc.zoom.us/meeting/register/u5EvduGgrzgtHtAXReq2FyOFE9yUl_GaSgxM
Title: "Decolonizing Disney Princesses"
Abstract: In this presentation, Keeta Gladue explores Disney's representation of Indigenous female characters, how those stories are told, and what they tell us about the world around us. From what is a "true story" to Halloween costumes, "Decolonizing Disney Princesses" is about which stories are told, who tells those stories, and why.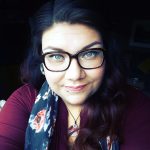 Bio: Keeta Gladue is a proud professional Indigenous nerd (IndigENerd) who believes in changing the world through pop culture references, humour, and storytelling. Keeta Gladue is currently serving her communities as the Indigenous Student Program Advisor for Writing Symbols Lodge. In her current role she supports diversity, equity, and inclusion as well as intercultural relationship building and anti-racism work. Cree and Métis, Keeta is also an Indigenous researcher engaged in work focused on Indigenous holistic mental health and wellbeing, academic integrity, and the decolonization and Indigenization of post-secondary institutions. She is also a registered social worker with degrees in multiple disciplines, and a current graduate student in leadership. A recent TEDx speaker, Keeta is committed to supporting intercultural engagement and understanding. As a passionate lover of learning she hopes to infect others with curiosity and wonder about how the world works, and even more, inspire them to imagine and work towards what it could be.
---
Thursday, November 18, 2021, 11:00 AM – 12:30 PM (PST)
Virtual Talk with Dr. Roger Bromley (University of Nottingham): 'Less than human': Examining the Representation of Refugees through the Lens of Decoloniality
Register here via RSVP form:
https://migration.ubc.ca/events/event/virtual-talk-with-dr-roger-bromley-less-than-human-examining-the-representation-of-refugees-through-the-lens-of-decoloniality/  
Co-sponsored by the UBC Centre for Migration Studies – Narratives Group and Hosted by UBC Centre for Migration Studies – Mobilities Group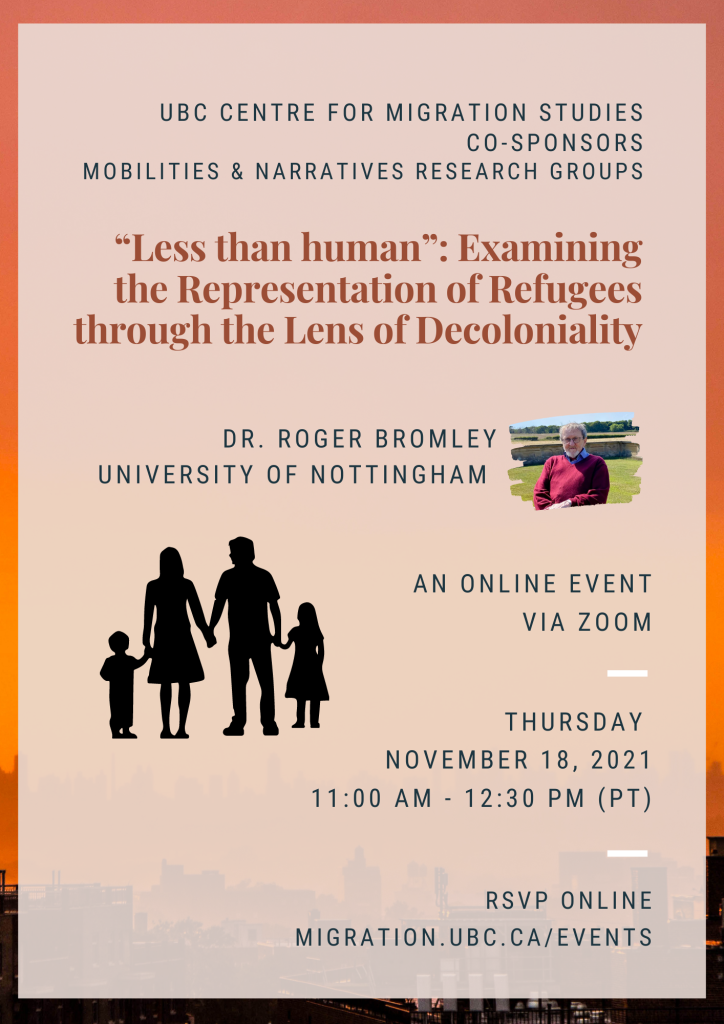 Abstract: In recent years, my research has mainly been concerned with the political, economic and cultural implications of displacement. In carrying out this work I have used a number of concepts, including the ways in which European/Western societies have employed the idea of 'the Other' to create a sense of belonging, identity and social status for its citizens through varying forms of 'ethno-nationalism'. Linked with this is a consideration of the historical, cultural and discursive processes through which the 'Other' is constructed in Western contexts – refugees in particular. The recent finding of the 1300 graves of First Nations' children in Canadian residential schools is a tragic example of this. 
 Other than Achille Mbembe's 'necropolitics', which I will briefly outline, I shall also use the concepts of disposability, 'lives unworthy of living' (adapted by the Nazis) and racialized dehumanization. As an overall framework for understanding and analysis, in this seminar I will be examining the complex symbolic-material nets of coloniality through the concept of the 'coloniality of power' developed by a number of Latin-American theorists in terms of decoloniality.  
Apart from these theoretical concepts which are developed in the opening chapter of my recent book (Narratives of Forced Mobility and Displacement in Contemporary Literature and Culture) and connected to them, I shall be looking at a range of issues related to the representation of refugees in, often reductive, Western discourses/texts/media – the sentimentalised, passive victim, the vulnerable person, the object of compassion/hate, the agential subject, the resistant activist ('actors in their own lives') and the newly emergent citizen. This involves a number of methodological challenges. The experience of refugees is unrepresentable in a sense, an 'unimaginable existence' for most of us, and representational forms are always inadequate but this does not mean giving up on any attempt. Rather, it means the development of 'other lenses for perception', a greater aesthetic-political reflexivity and sensitivity, a search for new, and radical, rhetorical strategies, linguistic and stylistic resources which unsettle, defamiliarize, and disrupt expectations and preconceptions, the 'always already known' other. By exploring the limits of sympathy, the shortcomings of the liberal claim of common humanity, and insisting on the ethical dimensions of representation, it may be possible to discover interventions in film, the novel, art, music and drama which subvert the presumption of 'knowing the refugee'. One example of such an 'intervention' will be briefly referred to: No Friend but the Mountains by Behrouz Boochani, 'the true story of an illegally imprisoned refugee on Manus Island, Papua New Guinea'. Roger Bromley (University of Nottingham) 
Bio: Roger Bromley is Emeritus Professor in Cultural Studies at the University of Nottingham, and was a Visiting Professor at Lancaster University until 2017. From 1964 to 2010 he taught in a range of universities in the USA and the UK. He is the author of Lost Narratives: Popular Fictions and Politics (1988); Narratives for a New Belonging: Diasporic Cultural Fictions (2000), From Alice to Buena Vista: the Cinema of Wim Wenders (2001) and joint editor of four other books. His most recent book, Narratives of Forced Mobility and Displacement in Contemporary Literature and Culture was published by Palgrave Macmillan in June of this year. 
---
Thursday, October 14, 2021, 11:00 AM – 12:30 PM (PST)
Ziegler Lecture: Author Reading and Discussion with Zafer Şenocak on Berlin, "The Capital of the Fragment"
Join us on October 14th at 11 am (PST) for the virtual Ziegler Lecture Series, featuring Zafer Şenocak, and co-organized by the UBC Centre for Migration Studies.
Register here via Zoom: https://ubc.zoom.us/meeting/register/u5AodOqqrjIjHtYHIjPbXunpzpgN7YggKgpl